If you wish to be inducted into this virtual historical virtual Pantheon of world boxing, you must send the signed form by mail to Pantheonboxing.com, PO Box 612, Edmundston NB E3V 3L2, or by email (by digitizing / scanning the signed document) to
info@pantheonboxing.com
.
However, this registration form must be signed by a person recognized as credible, such as an official of amateur or professional federation, or by a notarial deed to give proper credence to this charity project.
To receive the registration form to the Pantheon for a boxer
click here
and for an official
click here
.
I inform you that each inductee will receive a certificate of Induction by mail as well as his\her micro-biography printed on a 11 x 17 inches (27.9 cm x 43.1 cm) laminated cardboard, with the photo of their choice. However, you will need to send us this photo in JPG (high resolution), if possible, with your registration form to the Pantheon, or by email at
info@pantheonboxing.com
, by mail, FedEx or Purolator. Also, you will receive two badges stickers 3.5 inches x 3.5 inches (8.89 cm x 8.89 cm), one for clothes and one for the car, to identify you as inducted into the Hall, at a cost of $ 250 for all. Note that transportation is paid.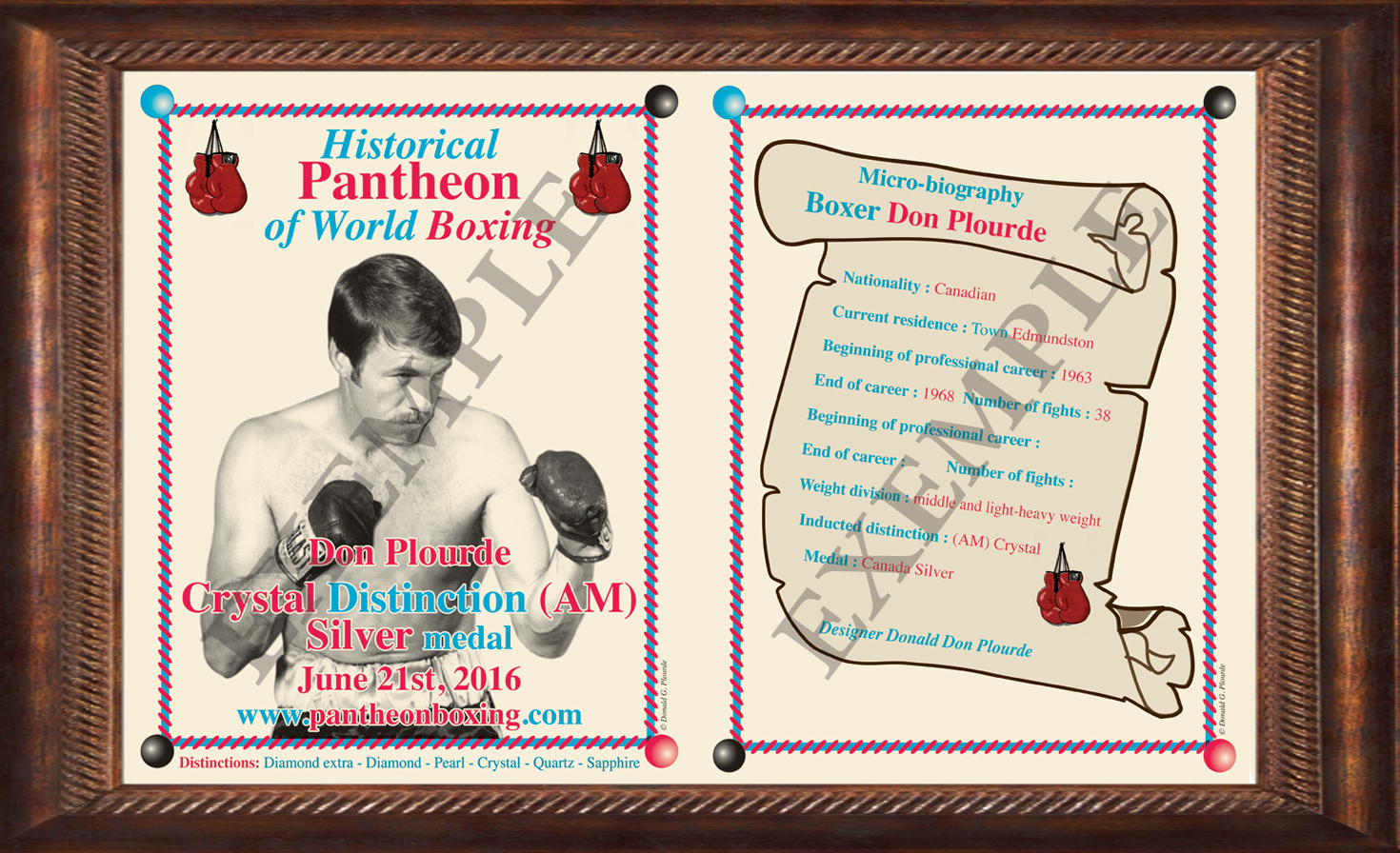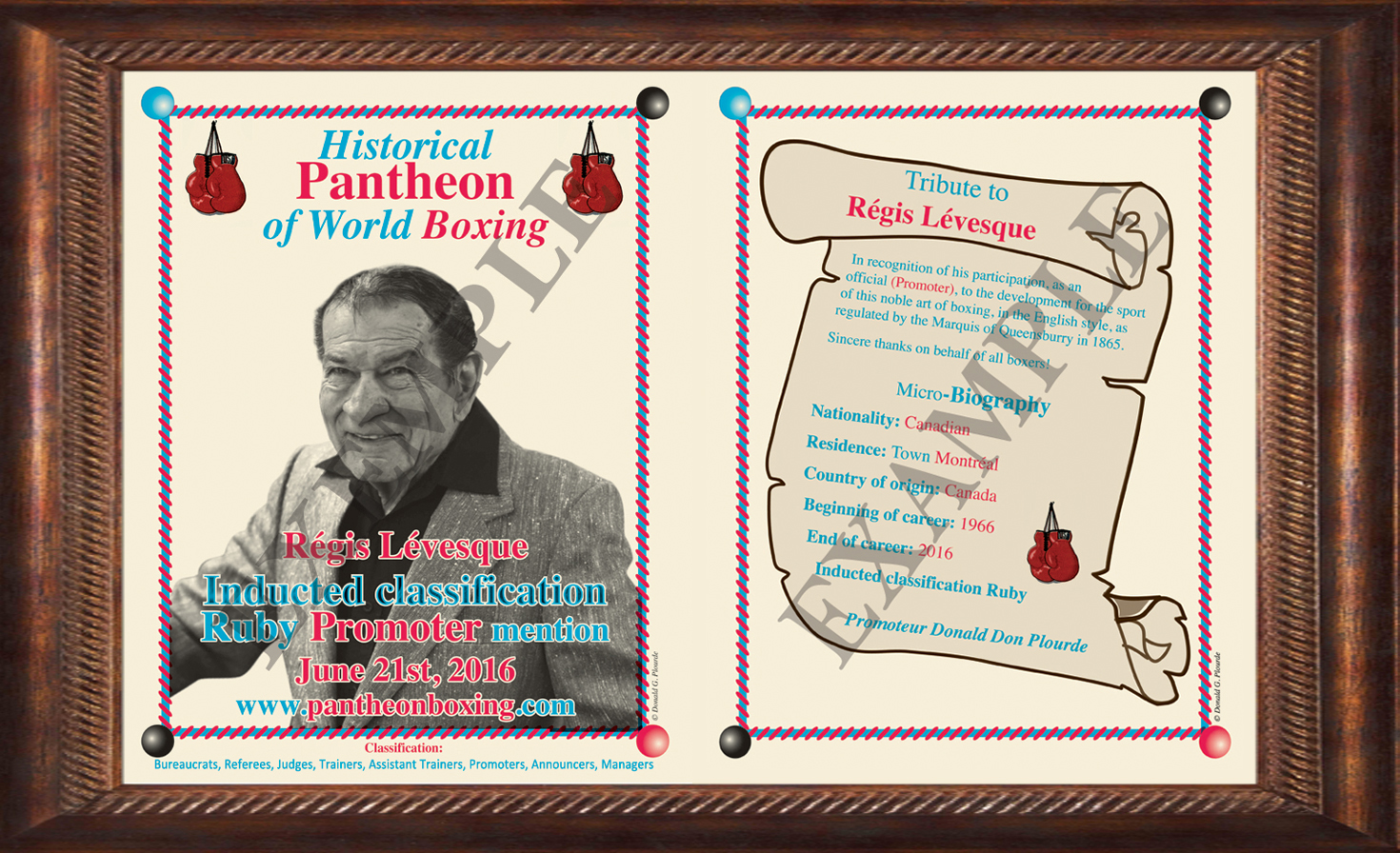 Here is the biography of the boxing ring style badge created with the blue and red colors that symbolize the corners of the arena where opponents are presented. They meet at the center to determine which will be the best of the competition, while respecting the rules of the noble art, ending in the center of the arena for the final decision in a feeling of friendship. See the model below.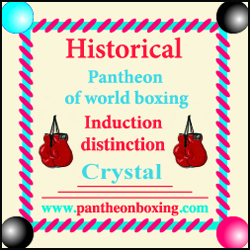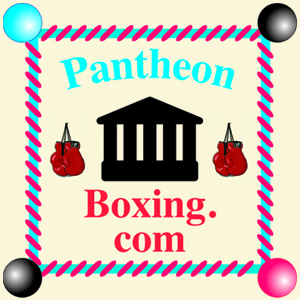 Also, for a larger size, it is possible to buy your induction certificate and laminated micro-biography framed with the official frame of the Pantheon, sized 16 x 20 inches (40.6 cm X 50.8 cm). at a cost of$ 385.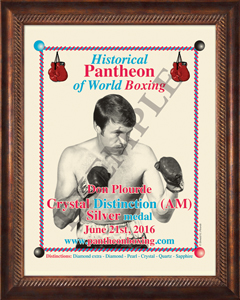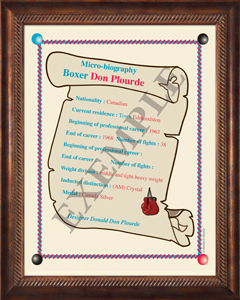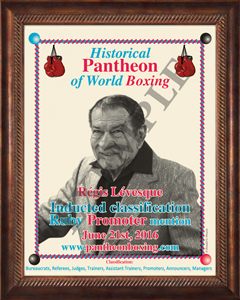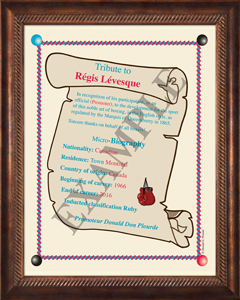 In addition, you will have the privilege of placing on the site, your autobiography (a length of a few pages) in the language of your choice, which you can send to us at
info@pantheonboxing.com
. So imagine a few years from now, all the stories you will be able to read about the world of boxing, including boxers and officials.